Waveguide Standoff / Hangers
Standoff/Hangers Description
Standard Material Plastic.
All WR Waveguide Sizes Available.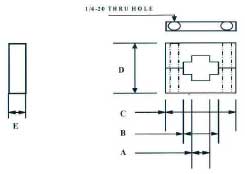 AMC offers a complete line of standoffs to support waveguide systems out in the field. The Standoffs are made of durable plastic and come complete with hardware kits so that they are ready for installation.
All AMC components are produced and inspected through our ISO 9001/AS9100 Certified Quality System. Other designs and materials are available upon customer request.


SAMPLE P/N: AMC-HNG-75-2/2-P
MODEL NO:
W/G SIZE
Dimension

MATERIAL
P=Plastic
O=Other

AMC-HNG
75
2.0x2.0
P


The above part number calls out a WR 75 support hanger with external dim. of 2x2, made of plastic. Please note that other sizes and materials are available upon request.*
* All hangers are .500 thk unless otherwise specified
| WR SIZE | A | B | C | D | E |
| --- | --- | --- | --- | --- | --- |
| 28 | .225 | .365 | 1.250 | 1.250 | .500 |
| 34 | .225 | .425 | 1.250 | 1.250 | .500 |
| 42 | .255 | .505 | 1.500 | 1.500 | .500 |
| 51 | .340 | .595 | 1.500 | 1.500 | .500 |
| 62 | .396 | .707 | 2.00 | 2.00 | .500 |
| 75 | .480 | .855 | 2.00 | 2.00 | .500 |
| 90 | .505 | 1.005 | 2.500 | 2.500 | .500 |
| 102 | .644 | 1.153 | 2.500 | 2.500 | .500 |
| 112 | .630 | 1.255 | 3.00 | 3.00 | .500 |
| 137 | .755 | 1.505 | 4.00 | 4.00 | .500 |
| 159 | .928 | 1.723 | 4.00 | 4.00 | .500 |
| 187 | 1.005 | 2.005 | 4.500 | 4.500 | .500 |
| 229 | 1.278 | 2.413 | 5.00 | 5.00 | .500 |
| 284 | 1.505 | 3.005 | 5.500 | 5.500 | .500 |
| 430 | 2.315 | 4.465 | 6.750 | 6.750 | .500 |